Description
Grow guarantees great efficiency in the development of height and muscle mass in foals. The product is to be used from 7 months to 2 years.
Guaranteed from 3 to 5 cm additional within 120 days. Avoiding future concerns with the foal's growth A 50ML BOTTLE treats 2 foals, bringing enormous savings to the breeder
DIRECTIONS FOR USE:
Animals up to 250kg 5ML Fortnightly applications Total of 5 applications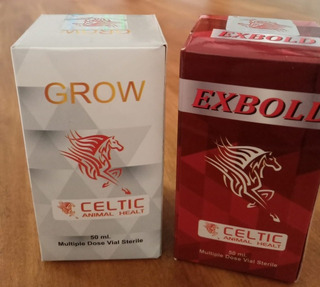 INGREDIENTS PER ML.
SOMATOTROPIN…60Ui
L-ISOLEUCINE………2.0Mg
L-Lysine…………………4.5Mg
L-METHIONINE…… .2.1Mg
L-THREONINE…………1.5Mg
L-TRYPTOPHANO…0.3M
L-VALINE………………2.0Mg
L- LEUCINE……………3.5Mg
VITAMIN B1………2.5Mg
VITAMIN B6………1.5Mg
SORBITOL……… ……50.0Mg.
Grow 10ml Injection, Grow 10ml Gh Growth For Foals Quarter Mile, Mangalarga Muscle Mass.