Description
RPM 21 is an excellent dexamethasone sodium phosphate with aminoacids and a respiratory and muscle stimulant specially formulated for race of camels and horses.
Is a blend of synthetic and natural stimulants, with muscle anti-inflammatories designed for high-performance competition
RPM 21 and RPM are 2 excellent products to use together.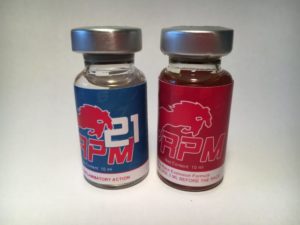 Presentation:
10 ml
Dosification & Administration for Race – Horse and Camel:
For professional application, read the article about dexa for race: Click Here
Dosages range from approximately 2 to 5 ml depending on many factors.
For safe application pre-race  (Horse and camel): 2 ml (IV only) 6-8hs hours before the race.
Min Dose : 1 ml IV  5 hs before the race, or 1 ml IM 6 before the race
Max Dose:  5 ml IV 8 hs before the race, or 5 ml IM 10 hs Before the race.
It synergizes with other dexamethasone, with other respiratory and muscle stimulants and is excellent for combining with RPM
Formula :
RPM 21 has: dexamethasone Sodium Phosphate 0,2% (2mg/ml), and Concentrated complex : (B1, b2 b6, b12, b15, ATP, UTP ) and natural stimulants (majuan extract and mix of natural stimulation agents of reserved formula).
Doses of RPM and RPM 21 used together: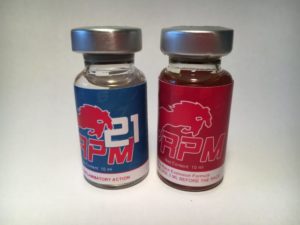 When these two products are used together,  I recommend lowering the RPM dose and applying it 5 days (For 4 days) before the race, and the last day, only applying RPM 21:
RPM ( Product of accumulation) + RPM 21   (Last minute impact)
in Camel :
1º) Day 5 before the race : RPM 3 ml (IM)
2º) Day 4 before the race :  RPM 2 ml (IM)
3º) Day 3 before the race :  RPM 2 ml (IM)
4º) Day 2 before the race : RPM 2 ml (IM)
5º) Day 1 before the race : 12 hs before the race 2 ml RPM (IM) + 5-6hs before the race 2 ml RPM 21 (IV) 
in Horse :
1º) Day 5 before the race : RPM 5 ml (IM)
2º) Day 4 before the race :  RPM 3 ml (IM)
3º) Day 3 before the race :  RPM 3 ml (IM)
4º) Day 2 before the race : RPM 3 ml (IM)
5º) Day 1 before the race : 12 hs before the race 3 ml RPM (IM) + 5-6hs before the race 2 ml RPM 21 (IV)